Chaifetz Arena Information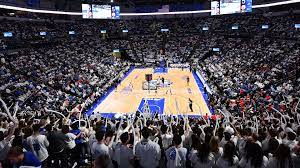 The Chaifetz Arena is a 10,600-seat venue on the campus of Saint Louis University. It has been home to the Saint Louis University men's and women's basketball teams since the 2008-09 season. It has an attached Pavilion that features a two-court basketball and volleyball practice facility that also serves as an 800-seat venue for the university's home volleyball games. It has earned the nickname "The Jewel of Midtown" and is considered one of the toughest venues to play in the Atlantic 10 Conference.
The venue is managed by Spectra Venue Management and was opened in April 2008. Since then, it has gone on to host over 150 events each year including a variety of concerts, family shows, games, and community events.
Many of these shows have been sold out, especially the world class concerts and events that include performances by some of the greatest names in entertainment. This includes Bruce Springsteen and the E Street Band, Elton John, Carrie Underwood, Mike Epps, Selena Gomez, Florida Georgia Line, Sam Smith, Eric Church, Demi Lovato, Cirque du Soleil, and others.
Name Origins
The arena got its name from University alumnus Dr. Richard A. Chaifetz, who made a $12 million naming gift to the university. Chaifetz was a 1975 graduate who went on to become a licensed neuropsychologist and the founder, chairman, and CEO of Chicago-based ComPsych Corporation, the world's largest provider of employee assistance programs. Chaifetz is known as one of the world's most quoted experts on behavioral health, workplace issues and employer and employee trends.
Saint Louis University
Saint Louis University itself is a Catholic, Jesuit institution that prides itself on valuing academic excellence, life-changing research, compassionate health care, and a strong commitment to faith and service. The University is also one of the oldest around since it was founded in 1818. It has fostered the development of nearly 14,000 students on two campuses in St. Louis, Missouri and Madrid, Spain. The university hopes to continue moving forward with its goals of promoting a brighter future.

More Chaifetz Arena information:
Ticket Policy:
Read about the ticket policies from our preferred ticket reseller and about their authenticity guarantees.
Seating Map:
Have a look at the Chaifetz Arena seating map and learn about different seating arrangements.
Parking Information:
Driving to the venue? Read more about Chaifetz Arena parking options here.