Chaifetz Arena Seating Chart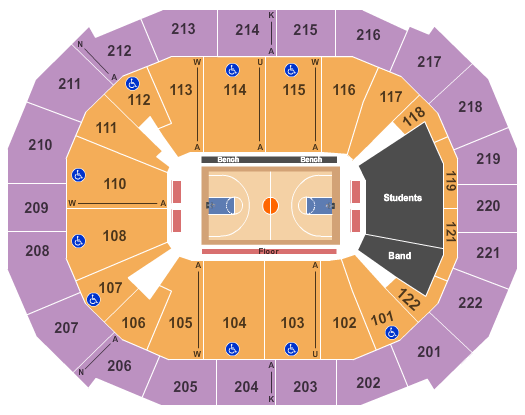 Chaifetz Arena is a 10,600 seat multi-purpose arena. As such, different events may have different seating capacity which will be indicated in the event description. This means that one show may have more or less room and may or may not include standing room only space.
The attached photo is the arrangement for basketball games. But in the more common arrangements for athletics events, you can expect plenty of room around the arena.
Accessible Seating
The facility is wheelchair accessible and provides companion seating with clear sight-lines on each side of the venue. Accessibility seating is available on a first-come first-served basis and may include companion seating. This seating is located on the concourse level located at sections 101, 103, 104, 107, 108, 110, 112, 114, 116, 119, 121.
If you require special accommodations, please call guest services at 314-977-5018
NOTE: Chaifetz Arena may host events that require different seating arrangements. When you select your tickets, please check the seating chart map that is specific for your event.
You can book your ticket today and grab yourself the best seats available. Check out the Chaifetz Arena schedule to see all the exciting upcoming events.
For policies and authenticity guarantees regarding the tickets provided, please see the ticket information page.